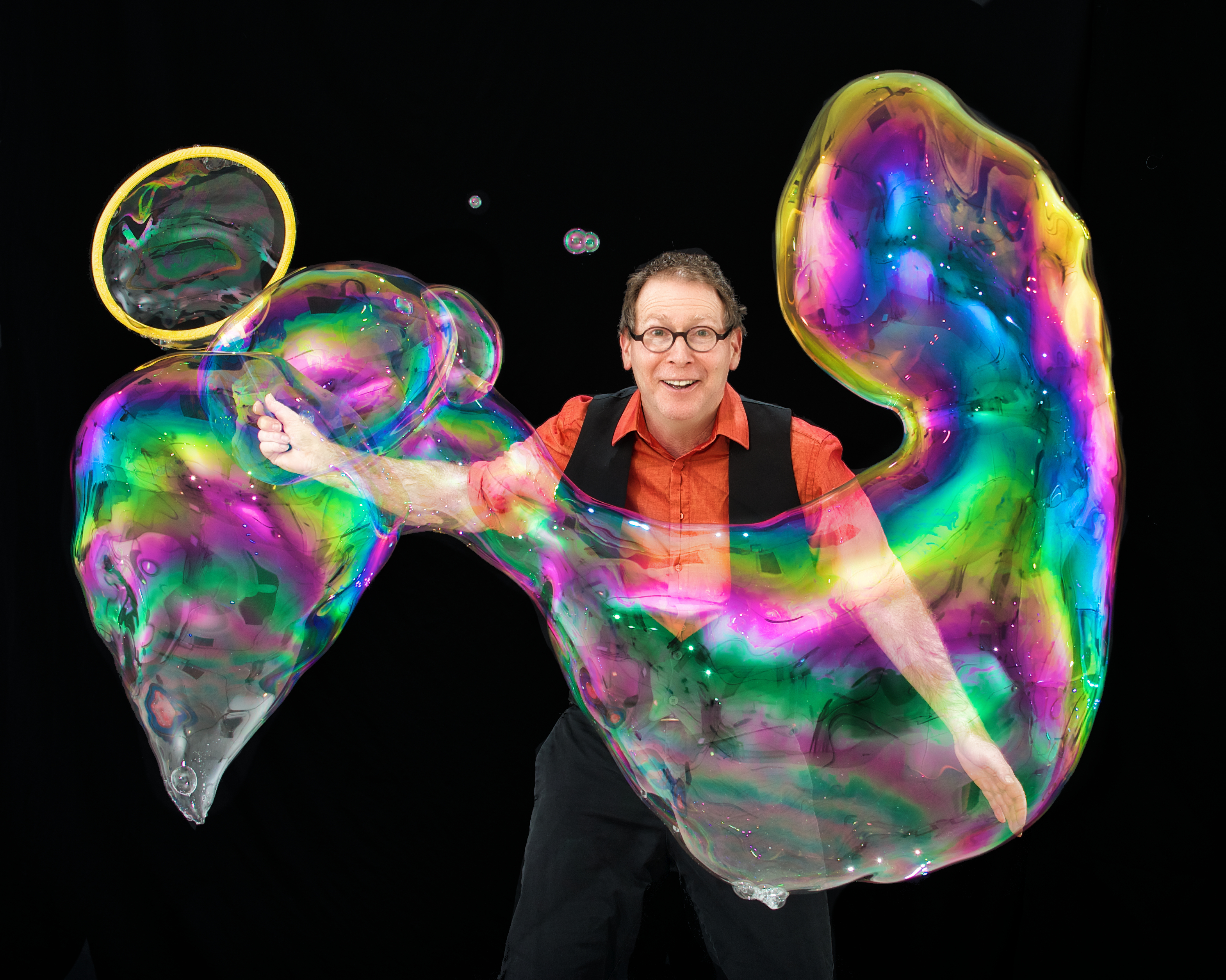 (Written by Charlotte Steel)
Amazing Bubble Man lives up to the hype. Here we have a man doing consistently amazing things with bubbles!
It seems like most of what is feasible to do with a bubble and / or multiple bubbles he's doing here. With humour, scientific explanations and panache the Amazing Bubble Man conjures trick after trick with the help of an intriguing array of bubble apparatus. There are square bubbles, rocket and snow globe bubbles, caterpillar bubbles, disco bubbles, bubbles so big they swallow a child whole… you name it, there's probably a bubble trick in there somewhere!
There are ample opportunities for audience participation for those game enough and willing to get splattered with bubble liquid and / or squirted at with a water pistol.
Part of the experience is being in a (practically) sold out huge venue, alongside hundreds of other enthralled kids and their accompanying adults. My 3 year old loves bubbles and she was definitely into this. A big part of its family appeal I think is that there's something in the show for all ages.
My mini reviewer said: "Amazing!" and "That's a big bubble!" and "Can I pop one?"
4 STARS ****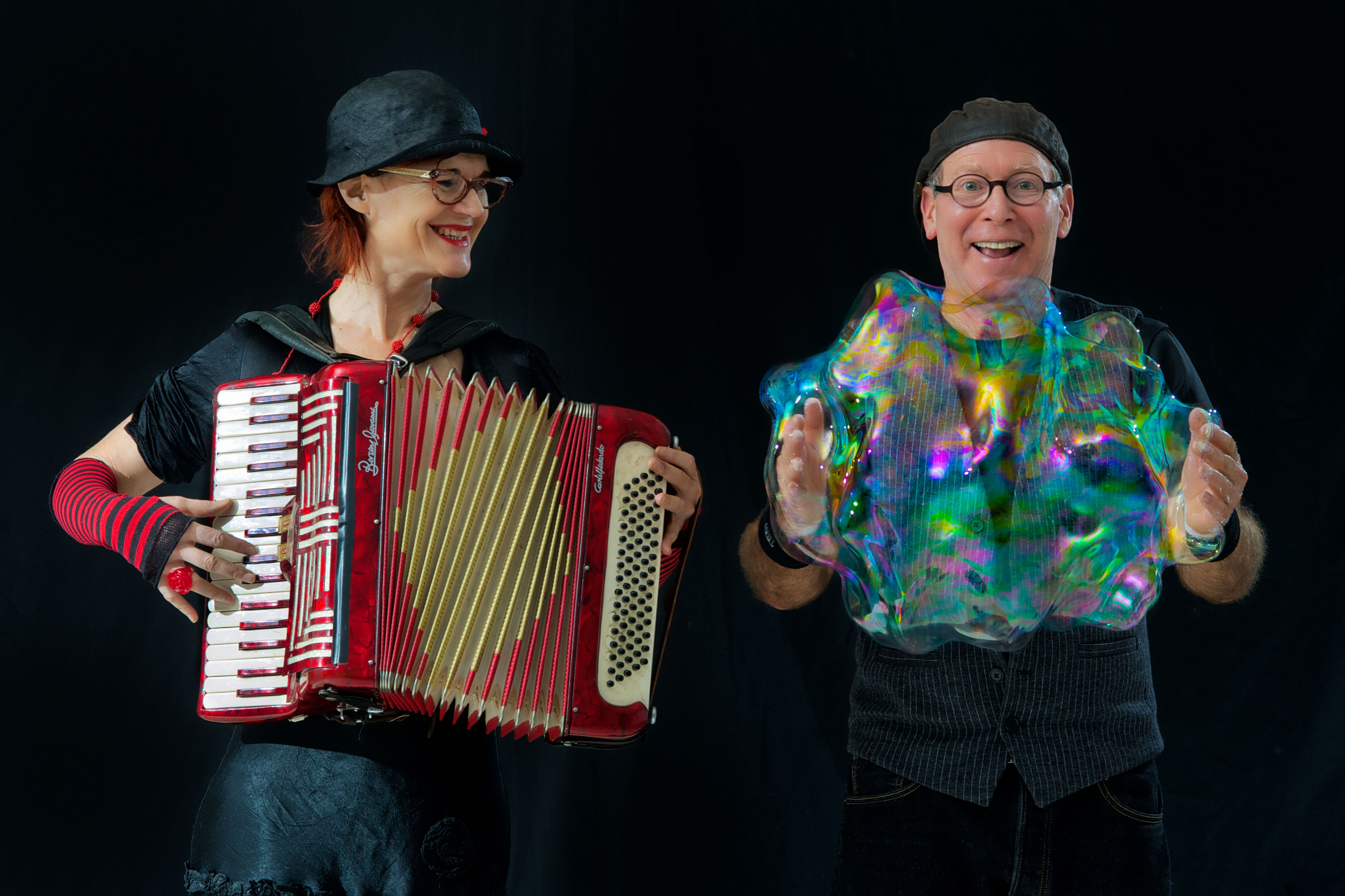 Suitable for the whole family sounds trite, but if any show meets that standard it is the amazing bubble man. Kids participated and loved it and the adults roared with amazement! I stopped counting how many ways he found to construct and endless variety of amazing bubbles, each seeming to top the previous effect. He may have been doing the show for years but his enthusiasm and love for his art are contagious. You will remember this show long after you have forgotten that edgy drama seemingly dealing with the critical issues of today.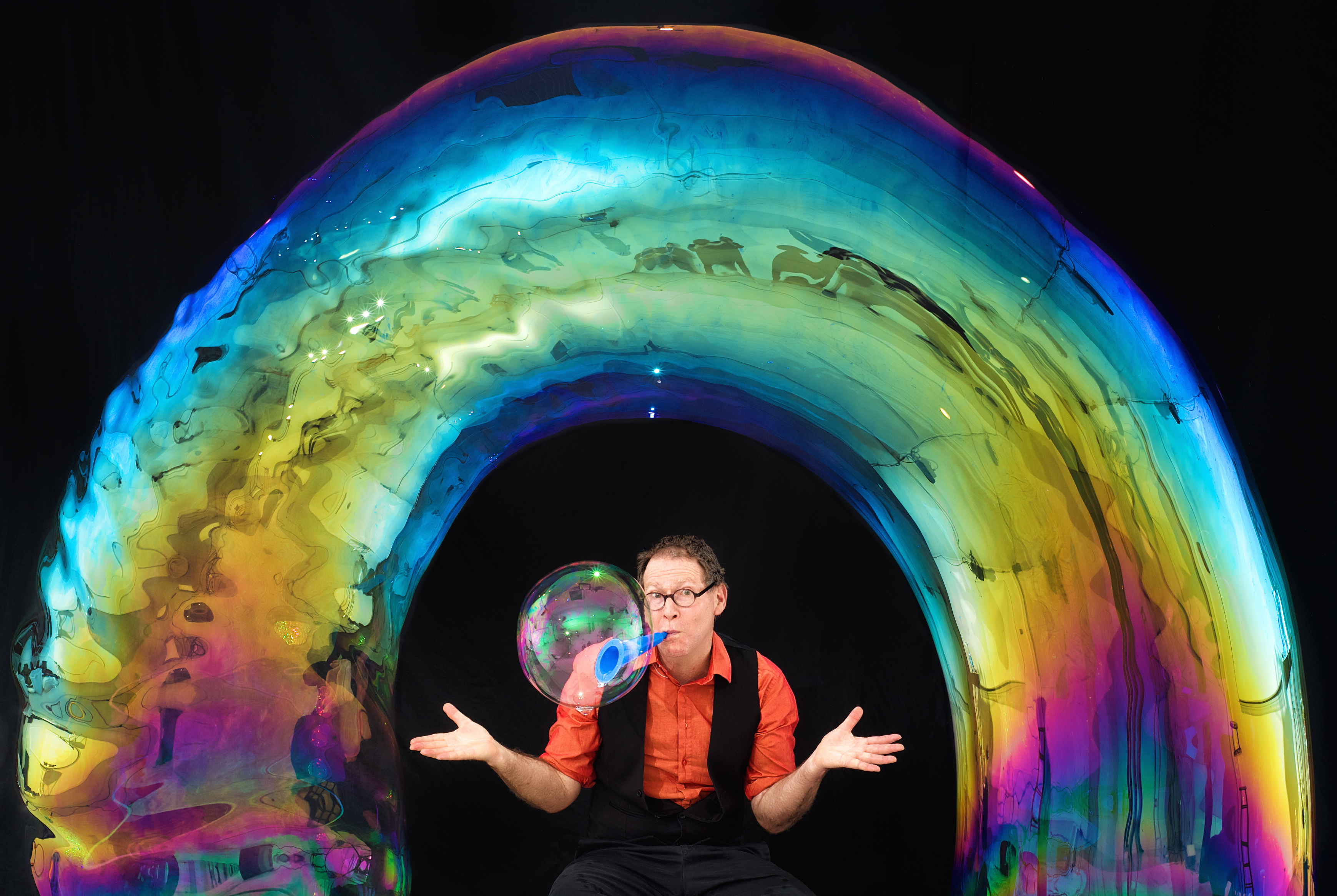 The best show of the entire festival. A series of mind blowing, gorgeous tricks that make me happy to live in a world where they're possible. If this is "for kids", why the hell have adults made things so miserable and complicated for ourselves? Why does every freaking act start with someone saying "you know how…" or "I once found myself…", and then go on to remind us about five thousand cringey and horrifying things about our lives? Do your mental health a favour and go to this instead.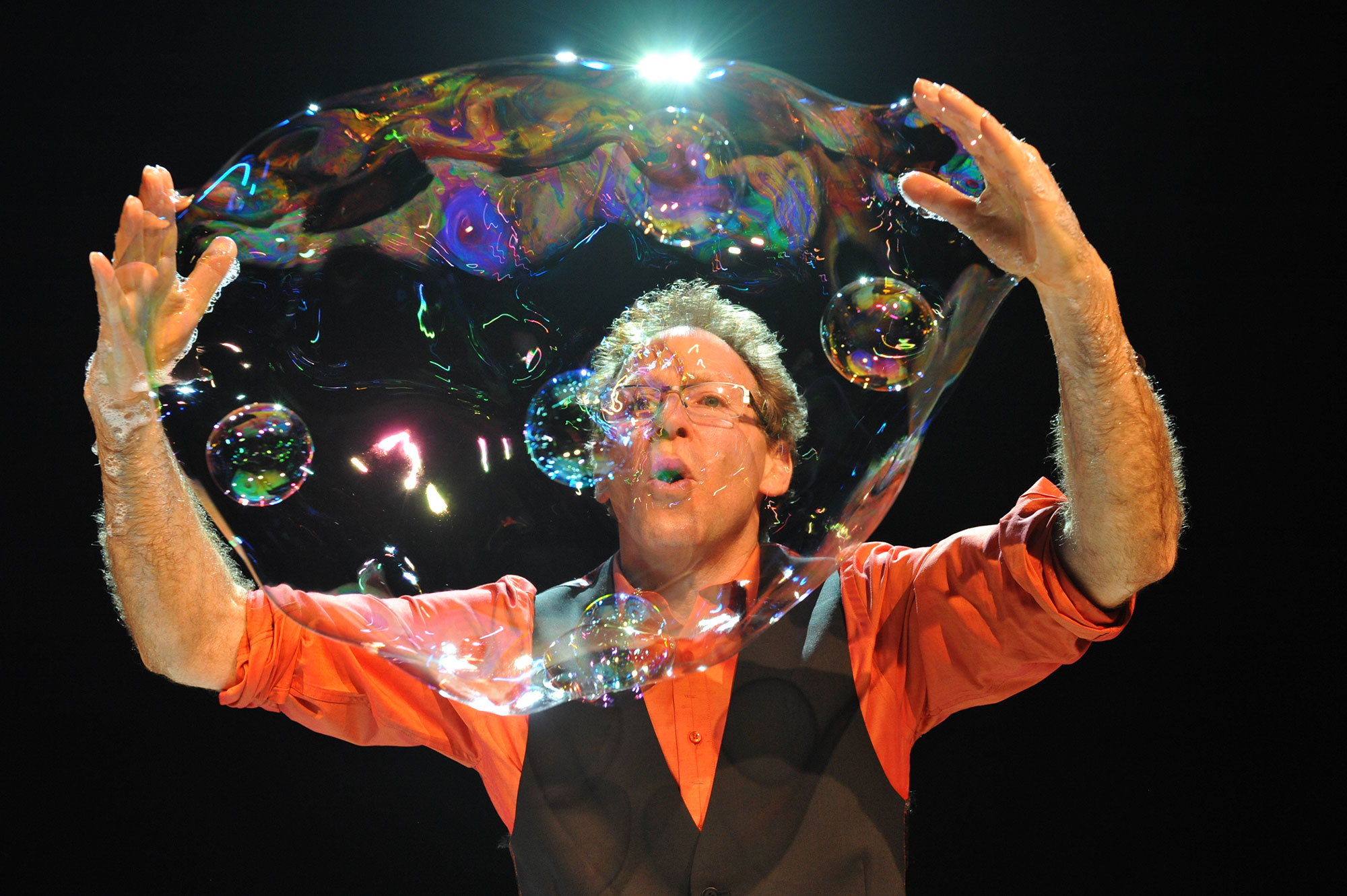 The New Zealand Performing Arts Review
Oh my lord – science has never been such fun; so entertaining, artistic and cool!
Louis Pearl is extraordinary. Geek-ish in a good way, low-key and almost shy, he is not your usual energized, over-happy children's theatre performer. Quite the opposite. Louis doesn't try to hype up the kids or milk gags or applause. Instead this fascinating and passionate bubble-lover chooses to let the bubbles speak for themselves. He could also be described as an accessible scientist who creates performance art, or an unusual visual artist who creates science.
While it's essentially a solo show, a well-positioned onstage cameraman and large screen, ensure everyone fully appreciates the process, as well as the end result, by capturing every detail. Louis surrounds himself with a simple, funky set made up of bright gobos and projections, which conjure up a mad scientist's lab. The show starts and ends with a rainfall of gentle bubbles cascading into the front of the auditorium.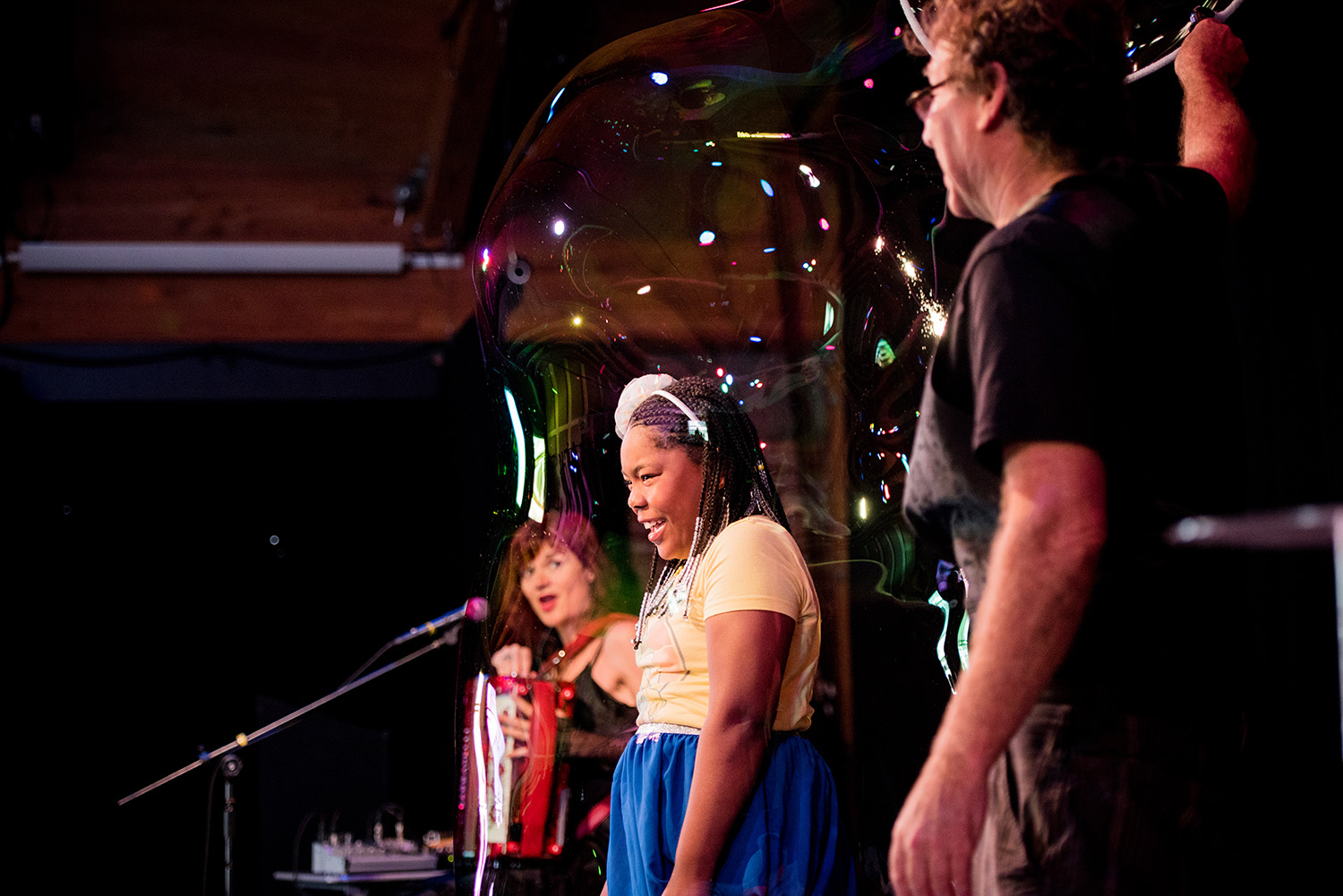 Edinburgh Festival by ThreeWeeks
Unlike a magician, who must maintain a distant mystique, the Amazing Bubble Man is able to create an immediate rapport with his young audience based upon a shared, enthusiastic love of bubbles. If his bubbles don't get you, his witty asides will, and by the end of this forty-five minute show, your spirits will be soaring up with the helium-filled bubbles floating about the ceiling. Square bubbles, bubbles inside bubbles, fog-filled bubbles, cute three year olds inside bubbles, solar system bubbles, edible bubbles. Oh, for heaven's sake, just go.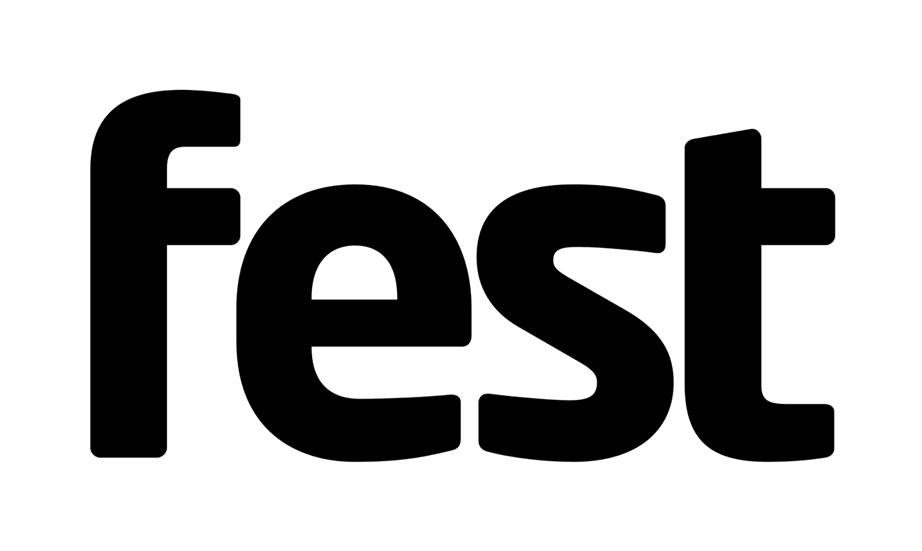 Fest Magazine by Tom Hackett
The range and beauty of the effects really has to be seen to be believed and anyone who doubts that bubbles can fill almost an hour of stage time will be very pleasantly surprised. Pearl delivers a breathtaking show for those of us who love them. In some really gasp-inducing sequences he uses a canister of stage smoke to create, for example, the illusion of an opaque cube spinning inside a bubble cluster.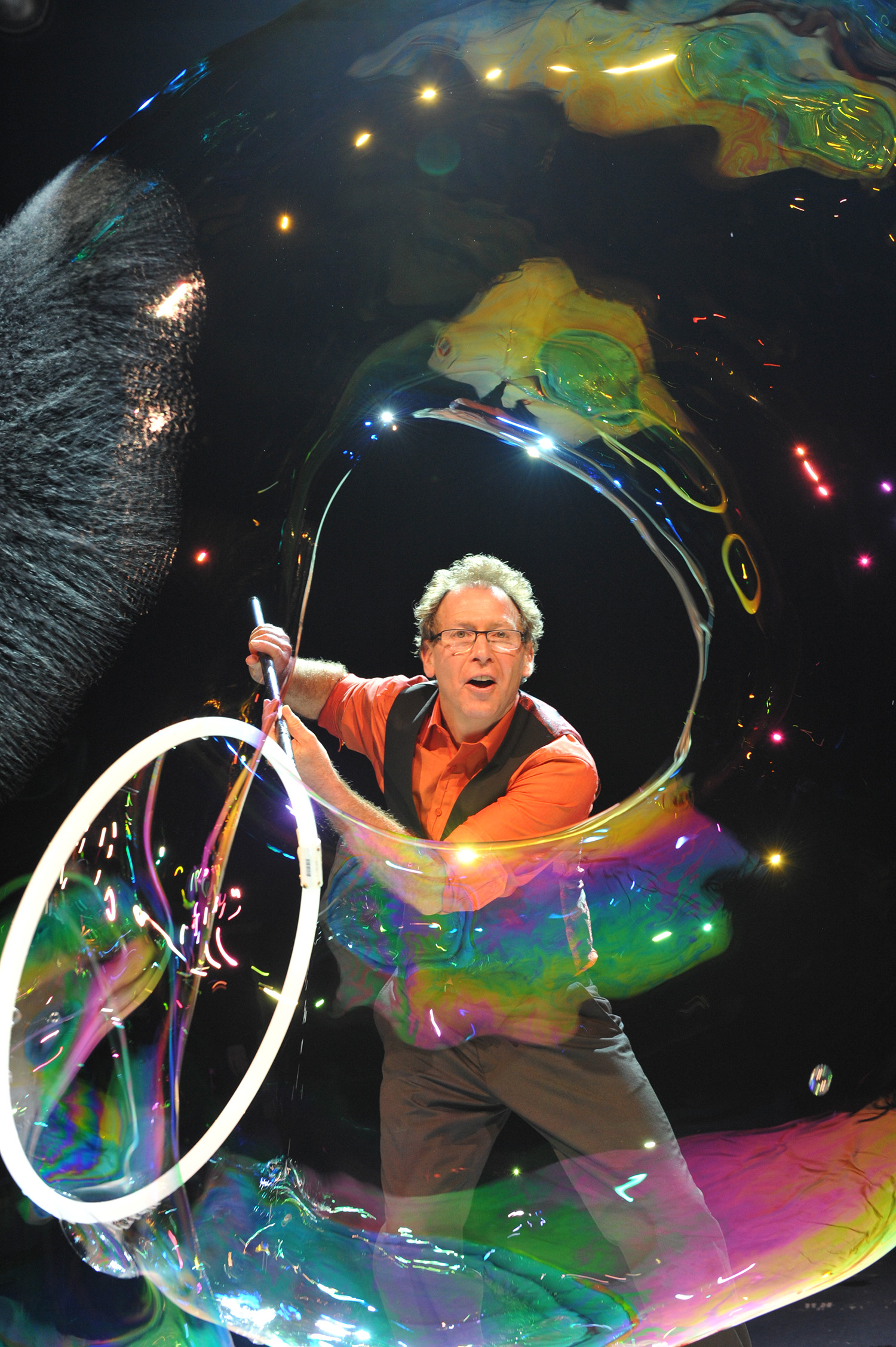 The Amazing Bubbleman 4**** – One4Review
The Amazing Bubbleman does live up to his name – it is a wonder what he can do with simple bubbles. Every child loves blowing bubbles, but the wide age range was surprisingly attentive throughout watching someone else getting to play!
From bubble chains to bouncing bubbles, giant ones, bubbles that move up a rope, and even getting his bubble fans kissing bubbles, there's a lot of fun and silliness. Then he breaks out the smoke gun, making the lines between bubbles clearer, and more interesting. This is followed by steam, to make bubbles rise.
His musician keeps the mood with music through the quiet bits, then he takes his time to banter with the audience, before embarking on some popping experiments, and getting out a water pistol.
Bubbles rose to the ceiling, while others sprinkled down onto the front few rows. No one could object about the lack of bubbles, and the variety of things you can do with them. I'd have loved a little more of the science of how it all worked, but we were all entranced by the never-ending bubbles.
Reviewed by Gill